It'll only set you back $1.04 million to own this road-legal conversion.
For all of us, owning a race car that we can take on the road is something that is little more than a pipe dream; it's something totally beyond the realm of possibility. Whether that be an F1 car or a Le Mans racer, it is surely a dream for many of us. But now, you can do such a thing…sort of. This is a track conversion, and a road legal one, of a Porsche Carrera GT-R. And it is finished in the famous livery that adorned the Porsche 911 GT1 when it rocked up to Le Mans in the mid-1990s. And the best thing is, it's up for sale too!
A Spectacular Conversion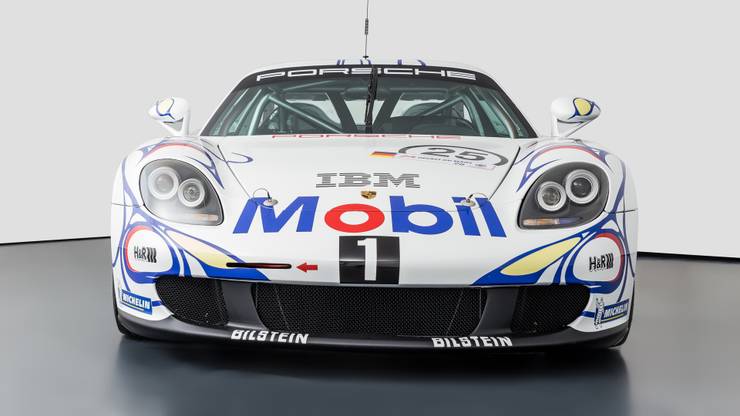 This is perhaps one of the most spectacular conversions ever done. Receiving the road-legal treatment away from the factory, it's based upon the 9R3—also known as the Porsche LMP2000—a secret Porsche prototype that never got to race at Le Mans where it was intended to compete.
And this was not a cheap conversion, costing the owner a staggering 220,000 euros. All in all, this is going to set you back just over $1.04 million dollars. The Carerra GT itself is highly regarded, but this takes it to another level entirely.
Rated At 650 Horsepower
So then, what specifications does this car boast? Well, it is listed on Mechatronik, and they have it listed at 650 hp. To put that into some context, the original Carrera GT boasted 612 hp. Various aftermarket items have been added, including a Motec control unit, tailor-made wishbones and pushrods, and a whole new braking system from AP racing. That is not all either.
Many Modifications
In addition to these modifications, the Carrera GT-R features a safety cage from Thiebaut Racing that has been custom made for the car, as well as an automatic fire extinguisher and a fuel system that will comply with motorsport regulations. This was the purpose the car was designed for 20 years ago, to go out onto the track and annihilate all before it. This then is an incredibly rare chance to effectively own a race car that is road legal and put it through its paces. Oh, and did we mention it has a 6-speed manual gearbox? That will certainly be fun!